If you're looking for a high quality, reliable logistics company, then look no further. Kingsway Logistics, Inc. is equipped to meet all of your needs because we pride ourselves on multiple areas in order to give the client the best possible experience. Whether it is the dispatchers working with the drivers to ensure a safe and timely delivery, or the employees working on the dock in order to get the items safely and efficiently loaded onto the trailers, we will always be working our hardest to make deliveries safely and on time. On top of working with our employees, we work personally with our customers to ensure that everyone is happy at the end of the day. This makes us proud to call ourselves your Chicagoland and Tri-State area carrier.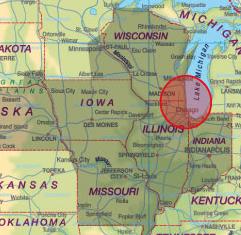 As the map above and legend below show, we have a primary service area spanning across Illinois, Wisconsin, and Indiana. In addition to the primary service area, we have a secondary service area that adds Iowa, Missouri, and Nebraska to the list of states in which we make deliveries.

If you need to reach a larger service area, we recommend Dependon Inc. as they cover the entire United States as well as international transportation. You can check out their website by clicking here.